In April 2005, the Institute of Human Rights at Emory University, in collaboration with CARE USA, the Carter Center human rights office, Doctors for Global Health, the U.S. Centers for Disease Control and Prevention, and the World Health Organization sponsored the conference, Lessons Learned from Rights Based Approaches to Health. The primary goal of the international conference was to explore evidence-based relationships between health and human rights through the sharing of successful evidence-based models of rights based approaches to health.
Over 350 practitioners and scholars from more than 40 countries gathered in Atlanta to explore how the world can make progress toward achieving adequate standards of health as a fundamental right of all people.More than 50 panel presentations and a dozen workshops took place over the course of the three day conference.
Featured speakers included U.S. President Jimmy Carter, Former United Nations High Commissioner for Human Rights Mary Robinson, United Nations Special Rapporteur on the right to the highest attainable standard of physical and mental health Paul Hunt, and United Nations Independent Expert on Human Rights and Extreme Poverty Arjun Sengupta, along with other leaders in the fields of health and human rights. The conference benefited middle- and senior-level program managers, students, as well as community-level practitioners, from the public, non-governmental and private sectors. The atmosphere was one of candor, resourcefulness, and reflection.
President Carter, a Nobel Peace Laureate and revered human rights supporter, provided opening remarks. "It's a basic human right to have a chance for good health care, decent health care. There is no reason for a child to die of diarrhea, of malaria, of measles." He advocated unwavering dedication to the cause. "All of us need to defend these rights, just as much as we would defend the rightto freedom of speech. Health ought to be just as high a priority."
Over the course of three days, several key themes emerged from the thought-provoking proceedings:
Moving the health and human rights dialogue from primarily rhetorical to principally operational;
The need for adaptable and practical toolkits for practitioners; and
Methods for measuring the fulfillment of the right to health.
Complete Conference Proceedings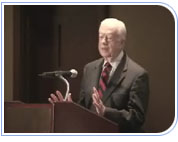 View video from President Carter's address

"It's a basic human right to have a chance for good health care, decent health care. There is no reason for a child to die of diarrhea, of malaria, of measles."
- President Jimmy Carter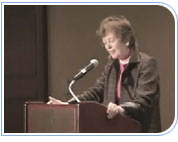 View video from Mary Robinson's address

"An explicit rights based approach to health will ensure attention to the interests of the disadvantaged and vulnerable sectors."
- Mary Robinson, Former U.N. High Commissioner for Human Rights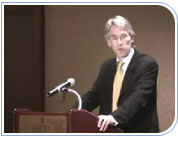 View video from Paul Hunt's address

"Many people recognize the right to a free trial, or to freedom of speech, as fundamental human rights, but the right to health does not yet have the same currency as those classic civil and political rights."
- Paul Hunt, U.N. Special Rapporteur on the Right to Health